Dear Praying Friends,
Our hearts are full and tender as we make this latest post. At long last after more than 35 years long we reconnected with Brother Yee Bee Chong through Sister Sarah Ang of "TIMELESS FRIENDSHIP" Group, Penang.
Penang?
Yes, in year 1979 the Good LORD called us to serve in Penang Rifle Range JSM
And it was just after the Great Soul Winning time of Year End 1978 in BHS JSM, Singapore. During the final night of Sept 9 1978 see
From 1978 BHS EVANGELISTIC CAMPAIGN OF 2nd to 9th Sept, 1978
SEPTEMBER 9th 1978 (Final Day of Campaign; Saturday)
Awakened this morning in the Mission. Was alone by myself because the students went for outing. To-night the whole Mission was packed with saints and sinners. The stairs were filled.  Many others stayed outside the Mission to hear the Messages. On the last minute chaired the Meeting in the place of James Foo. Felt a little liberty as we sang, "IN TIMES LIKE THESE". Sister Lai Siong gaves her testimony. The Choir sang "SPRINGS OF LIVING WATER ". Brother Bee Hin spoke on "IS THIS THE LAST GENERATION?" Felt the chill of deep conviction in the message. Many souls were saved to-night.
The eight nights of Evangelistic Campaign closed with a glorious power of God's Presence in the midst of His Children. Amen & Amen.
Note again: The stairs were filled.  Many others stayed outside the Mission to hear the Messages
As a result of extra 68 people made decisions for Christ the Mission Church was packed every Sunday & the wooden partition wall of the Mission had to be removed to contain a bigger congregation
We would have loved to stay on. But GOD has His Will
Note: 4 months later God called us to serve in Penang. To serve in Rifle Range JSM where we met Brother Yee Bee Chong
Now this is Rifle Range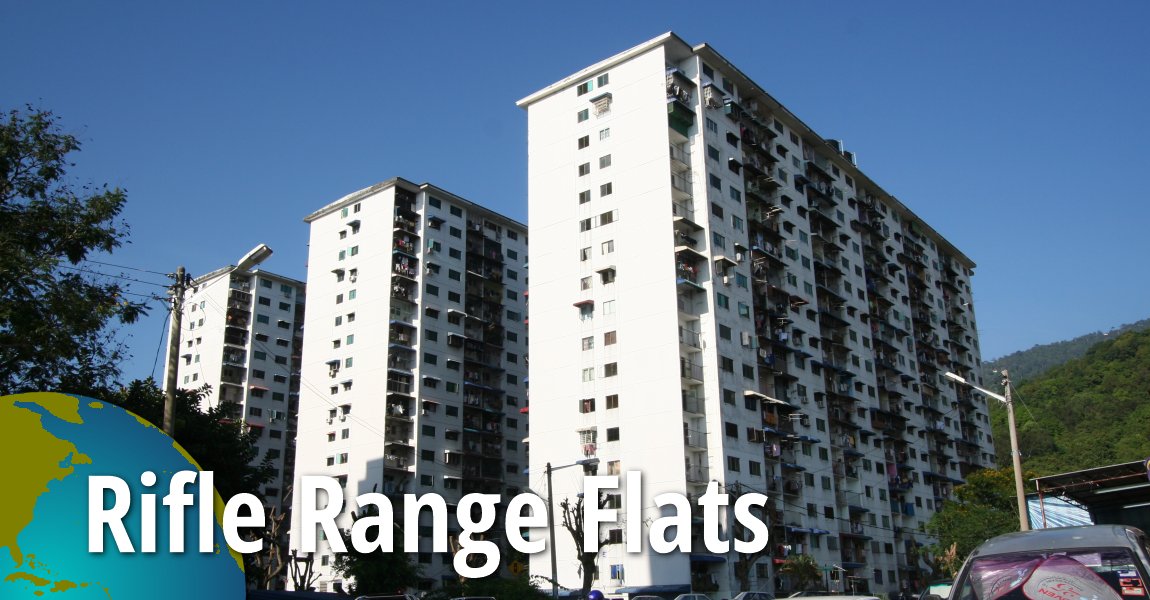 Rifle Range Flats (GPS: 5.41114, 100.28939) are one of the Penang state government's earliest low-cost housing projects. It is located at the junction of Jalan Padang Tembak with Boundary Road (some times translated as Jalan Sempadan). It is known as Phak1 Cheng1 Por1 

 in Hokkien, a direct translation of "rifle range". The name hails back to the 1950's, when the place was used for target practices. At that time, it was at the edge of town, next to the Batu Gantong Cemetery, which was also regarded as "rural countryside".
The transformation of the area from a rifle range to a low-cost residential neighbourhood began in 1968. When Rifle Range Flats – comprising nine blocks with heights of 17 and 18 storeys – were completed in the early 1970's, they were the tallest buildings in Penang. None of the units were big – they were almost like pigeon holes. Nonetheless they provided housing for many hardcore poor. Over the years, however, the general condition of Rifle Range Flats deteriorated rapidly. Eventually they were in Penang synonymous with squalor.
Perhaps the advantage of living in Rifle Range is that it is relatively close to town – just a little over 5 km from Komtar, the property is cheap, and if you are a single person living alone, the space is sufficient. However, for most people who live here, it is a mere temporary abode until they can afford to live elsewhere.
From a very hot revival to a place regarded as "rural countryside"
Yes! But perfectly all right "IF THE DEAR PRESENCE OF GOD IS WITH US"
And with us He was and is today.
One morning we went for visitation at the Rifle Range Flat to meet Yee Fook Keong. We spoke to Yee Fook Keong and exhorted him to come back to Church but he was non committal. After doing our best we left him.
Next Sunday Yee Fook Keong did not turn up. But to our surprise we saw a young man we have never seen before in Church
So after the Service we spoke to him. And this was what brother Bee Chong testified with words to this effect,
"That morning when we preached to Yee Fook Keong he was actually hiding behind the door and hearing every word (unknown to us)
The Gospel message was empowered by the Holy Spirit and created faith in him. He felt an unseen power. And the words were alive"
How strange and mysterious are the ways of God the Holy Spirit
So Brother Bee Chong became a very faithful convert.
Words cannot describe how deeply we were moved when Sis Sarah gave us Bro Bee Chong's phone contact and our keeping in touch with him after these many decades
Below is the photo
On the right is Brother Elisha Yee Bee Chong (Faith comes by hearing the Word of God even behind hidden doors)
On the left is Sister Suzanne who is now a Full Time Church Counselor
Amazing is the grace of God
Standing last row Centre 4th  from either left or right is Bro Elisha Yee Bee Chong
Below is the latest current photo of our Beloved Brother Yee Bee Chong
He now lives in Rawang, Selangor, Malaysia
The Church and her members are the dearest people on earth and also in heaven for all eternity to eternity
Amen & Amen!
I LOVE THY KINGDOM LORD
By Timothy Dwight
I love Thy kingdom, Lord,
The place of Thine abode,
The church our blest Redeemer saved
With His own precious blood.
I love Thy church, O God;
Her walls before Thee stand,
Dear as the apple of Thine eye,
And graven on Thy hand.
For her my tears shall fall;
For her my prayers ascend;
To her my cares and toils be giv'n,
Till toils and cares shall end.
Beyond my highest joy
I prize her heav'nly ways,
Her sweet communion, solemn vows,
Her hymns of love and praise.
Sure as Thy truth shall last,
To Zion shall be giv'n
The brightest glories earth can yield,
And brighter bliss of Heav'n.
Note: The Word comes like seed sown but our tears of prayer water it