My dear friends
Our last question few posts before
But how was the Sermon prepared?
See the quote in its context
One night Rev. (Dr) Peter Ng was in KL for preaching
His message was on Esther, Mordecai & the wicked Haman
Never have I heard such a powerful, piercing and penetrating sermon before.
The words came forth like a sharp sword piercing into the very innermost soul
I was astounded, speechless & humbled under the mighty power of the Word!
12 For the word of God is quick (alive), and powerful, and sharper than any twoedged sword, piercing even to the dividing asunder of soul and spirit, and of the joints and marrow, and is a discerner of the thoughts and intents of the heart.(Heb. 4:12)
From whence cometh such power?
The words came not in word only, but also in power & in the demonstration of the Holy Spirit
Later I attended the All Night Prayer from 10pm Friday night to Saturday 4am (a 6 hour marathon of earnest prayer, interspersed with singing praises & hymns
Ha! This is the secret of his power. Power through prayer! A powerful praying pastor will also be a powerful preacher. Prayer & preaching power go hand in hand
But how was the Sermon prepared?
For that it will be another story when we enter SOM (School of Mission) in Singapore from 1975 to 1978
Today we will share the secret of Dr Peter Ng's Sermon Preparation
Dr. Ng lectured and taught homiletics
the art of preaching or writing sermons.

"the teaching of homiletics"
He said that Preaching is like Shooting A Rifle. You must take Aim at One Target
If you aim at One Main Spot you will Hit the Target
Not a Spray gun that scatters its bullets everywhere  and will not be effective
A message with many irrelevant topics will be like a Spray gun that is weakened and get no real result
Ha! That is what Commandos were trained in the Army. To shoot & kill
See
5 Thine arrows are sharp in the heart of the king's enemies; whereby the people fall under thee (Psalm 45: 5).
IN TODAY'S CONTEXT THE MESSAGE IS LIKE A BAZOOKA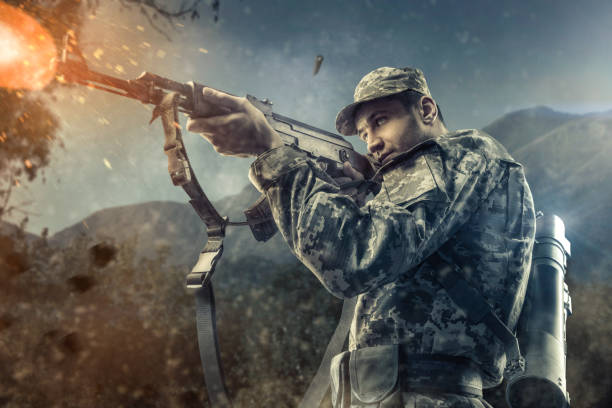 The Secret is so simple and straight forward. The problem is the execution. Unless we have a Message there is nothing to "hit at"
So we must go down on our knees and pray for God to impart His Word first to our hearts
This was what Rev Chandra  Shekar Edar said,
"God must first put the message into our hearts before we can put the message into the heart of the hearers"
A Sermon is different from a lecture. A lecture can be a mental subject without changing the life. A true Sermon is a message not just for the mind but also touches the very heart & soul.
Aha! That is why when I heard past SOMers like Matthew Seow, Jeremiah Ng, Dorcas, Esther, Faith speak or shared they all exhibit the same power in preaching or sharing.
I also heard present day SOMers Rev Tang Ah Chang & Rev Daniel Khoo (visiting guest speakers at Mt Calvary Baptist Church, Spore) with the same pointed message with unction
And in SOM Dr. Ng would tell us to preach & gave us Topics to speak
Using topics about our main weak points as subjects for preaching  were hardest to prepare and to preach. Preaching  against the preacher himself?
Guess what?
He told me to preach on a subject called
"Holy Haste"
I was baffled while he looked on quite amused. This slowest SOMer like a tortoise going to preach on "Holy Haste"?
Thank God for coming to my aid
In 10 minutes the Subject was brought to my mind
Yes. In SOM things moved fast. Prepare message on short notice. Only 10 minutes to pack up for long trip to Malaysia. We were trained to be better than Scout whose motto is "Be Prepared"
Now my 1st message in homiletics class
Holy Haste
Holy Haste in the Life of Abraham
12 Now the Lord had said unto Abram, Get thee out of thy country, and from thy kindred, and from thy father's house, unto a land that I will shew thee:
2 And I will make of thee a great nation, and I will bless thee, and make thy name great; and thou shalt be a blessing:
3 And I will bless them that bless thee, and curse him that curseth thee: and in thee shall all families of the earth be blessed.
4 So Abram departed, as the Lord had spoken unto him; and Lot went with him: and Abram was seventy and five years old when he departed out of Haran.
Abraham exhibited holy haste at the call of God to leave his country.
And God blessed Abraham with a Son Isaac just as God promised
But Abraham heart turned more and more to his son till God has to test his loyalty by asking him to sacrifice Isaac on Mt Moriah
22 And it came to pass after these things, that God did tempt Abraham, and said unto him, Abraham: and he said, Behold, here I am.
2 And he said, Take now thy son, thine only son Isaac, whom thou lovest, and get thee into the land of Moriah; and offer him there for a burnt offering upon one of the mountains which I will tell thee of.
Abraham left Haran at the age of 75. 25 years later Isaac was born. About 13 age Abraham was told to sacrifice Isaac so there was a span of 38 years since Abraham first obeyed God
Now will Abraham shrink from God's Call. Did he wallow in pity for Isaac? Or question God? Of course not.
See
3 And Abraham rose up early in the morning, and saddled his ass, and took two of his young men with him, and Isaac his son, and clave the wood for the burnt offering, and rose up, and went unto the place of which God had told him.
Abraham again responded in holy haste just as he did 38 years ago without wavering
See how God remembered him in Hebrews
8 By faith Abraham, when he was called to go out into a place which he should after receive for an inheritance, obeyed; and he went out, not knowing whither he went.
Abraham's faith shone out by his implicit obedience to God
Read again
he went out, not knowing whither he went.
He was willing to instantly follow God even though he was not sure where he was supposed to go
Oswald Chambers wrote an excellent book on Abraham called "NOT KNOWING WITHER"
2) Holy Haste in the Call of Fishermen to Serve Him
18 And Jesus, walking by the sea of Galilee, saw two brethren, Simon called Peter, and Andrew his brother, casting a net into the sea: for they were fishers.
19 And he saith unto them, Follow me, and I will make you fishers of men.
20 And they straightway left their nets, and followed him.
21 And going on from thence, he saw other two brethren, James the son of Zebedee, and John his brother, in a ship with Zebedee their father, mending their nets; and he called them.
22 And they immediately left the ship and their father, and followed him.
These were blue collar jobs simple fishermen called by jesus
They all responded in a holy haste
3) Holy Haste in the Call of Tax Collector
From Blue collar job worker Jesus now called White collar job worker to His Service
27 And after these things he went forth, and saw a publican, named Levi, sitting at the receipt of custom: and he said unto him, Follow me.
28 And he left all, rose up, and followed him.
29 And Levi made him a great feast in his own house: and there was a great company of publicans and of others that sat down with them.
Being a Tax collector Levi had better means so he reached out to his friends by throwing a great feast to win souls for Jesus
And so I preached my 1st Sermon against my self in front of Homiletic class
Thank God for His Servant
Now may God move all to respond in holy haste to His Voice
8 Also I heard the voice of the Lord, saying,Whom shall I send, and who will go for us? Then said I, Here am I; send me.